We hope everyone has enjoyed this wonderful summer as we move into September and cooler weather (I hope) and the changing of the seasons.
Most of you boaters keep an eye on the flow release and know that as of September 7th we will be adjusting to just weekend water till the end of September. And then as of October 1st, we move to just Saturday water. The release time has also changed to 9-noon on release days at 1300 cfs.
So with this in mind for the month of September we will be offering up our services on Saturdays & Sundays throughout the month and then in October, we will be offering shuttles on just Saturday.
Thanks for your business, we appreciate it.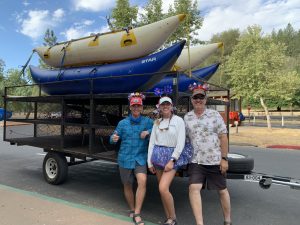 Riders from the July 4th weekend
Marshall Gold North Beach loading up more passengers for Chili Bar